---
Motorcycles Coloring Pages
Motorcycles Coloring Pages
---
🏍️
Remarkable motorcycles coloring pages for you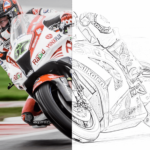 🏍️
Welcome! Here are motorcycles coloring pages of superbikes, city motorbikes, road cruisers, and more!
You will find some favorite for you😀.
🏍️Our coloring pages
from photos are wondrous. Motorcycles coloring pages are high-quality and very detailed. Kids discover it so funny and interesting, we know that😉.
Here you can find fabulous motorcycles, from Harley Davidson to cute vintage bikes🏍️. Our realistic and excellent coloring pages of marvelous motorcycles inspire you to dream, and it is amazing! So, try our unique coloring pages to motivate yourself and others😉! 
How to choose the right coloring page 🎨 for your kid?
Choosing a coloring should take into account the interests and hobbies of your child. Boys are usually interested in topics such as cars, cartoons, superheroes, planes. Girls like princesses👸, fairies, animals, flowers💐, nature🌲. But you should always focus on your baby yourself.  After all, no one except parents themselves knows what interests their child. The age of the child should be taken into account when choosing a coloring page🎨. Adults remember how they loved the coloring pages in childhood.
The choice of children's coloring strongly depends on the age of the child. Too complicated coloring with many small details will not be suitable for kids who are just learning to hold the hand. At the same time too simple, uncomplicated colorings will not be interesting for older children.
Choosing coloring page 🎨, rely on the following criteria:
Colorings for 2-3 years old kids should contain a minimum number of items, their size is not small, the contours are drawn with clear bold lines. A child can paint with a brush or even a finger using paint.

Colorings for 4-5 years old kids can be more complex and have several objects.  To paint them kids will need several colors. Children learn to use colored pencils. At this age, children form their preferences for coloring pages depending on the gender: for girls - flowers, butterflies, princesses, for boys - superheroes🦸, cars, motorcycles🏍️.

At the age of 5-6 years, a child is quite capable of coloring paintings with letters and numbers, it is time to offer child coloring on numbers. Thus perfectly consolidate the knowledge of the alphabet and the account.

7-10 years old children most of all like coloring characters from favorite cartoons. Coloring pages for older children can be very difficult, they don't like too simple pictures😀.
Convert any picture into a coloring page 😀!
Using our site you can convert any picture into a coloring page🎨. Not each service provides such an opportunity, we are a unique site😀. So you can choose ready coloring pages from our categories or make a unique coloring page from your photos. For your kid, it can be magical. Do you agree?