---
Coloring Pages for Girls
Coloring Pages for Girls
---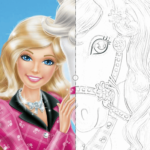 💝Welcome to the coloring pages for girls! Here you can find coloring pages with Frozen Elsa, Moana, Barbie, Princess Brave, Jasmine, Ariel, and many many others👸🏽.
The marvelous world of princesses👸
Here starts your journey into a marvelous world of princesses and
dolls😍
. For all little girls, it would amazing to color their favorite princess👸. All kids will be happy to get
coloring pages
with favorite dolls and other lovely heroes from cartoons and tales🏰.
Make your coloring pages for girls with Mimi Panda🐼
Moreover, you can make your own coloring page🎨 with your favorite doll that is in your home. How to do that? Well, it so easy and quick, and you can do that right now! First of all, make a foto with your doll or your daughter's favorite doll and upload to the Mimi Panda
coloring page converter
, and for a couple of seconds, you get your coloring page with your favorite doll! Print your coloring page and start to color🎨!
Create personal coloring book📕 for your little princess
Furthermore, you can
make personal coloring books
from coloring pages, which you converted by the Mimi Panda converter. It can be a great surprise for your little princess! Get started now, choose an amazing doll coloring page among this category, or make a personal doll coloring page!