---
Airplanes Coloring Pages
Airplanes Coloring Pages
---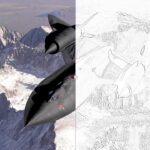 Welcome to the airplanes coloring pages category! Here you can find different airplanes coloring pages: military jets, airbus, fire balloons, helicopters🚁, plains🛩️, and more!
Explore the aircraft world with Mimi Panda🐼
Start to explore for yourself and your kids an astonishing world of
aviation
. You can have a wonderful pastime during coloring and get more facts about the history of aviation, about legendary military
aircraft,
and wonderful balloons, and amazing
zeppelins
. Mimi Panda 🐼 helps children to explore something new and interesting. We are sure that our unusual
coloring pages
will like adults as children too.
Make your airplane coloring pages ✈️
But it isn't all, you can make your coloring page also for any photos or images on Mimi Panda website. Maybe do you have your favorite aircraft model or ship? You can make a photo and
converts it into a personal coloring page
or create a
custom coloring book
, and it's great and exciting! But coloring pages are not only entertainment that is also
relief from stress
, developing creativity, learning colors, and motor skills for kids and adults. So, we look forward to starting to create with you 😍!