---
Airplanes Coloring Pages
Airplanes Coloring Pages
---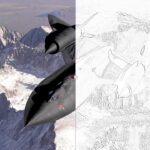 Welcome to the airplanes coloring pages category! Here you can find different airplanes coloring pages: military jets, airbus, fire balloons, helicopters🚁, plains🛩️, and more!
Explore the aircraft world with Mimi Panda🐼
Start to explore for yourself and your kids an astonishing world of
aviation
. You can have a wonderful pastime during coloring and get more facts about the history of aviation, about legendary military
aircraft,
and wonderful balloons, and amazing
zeppelins
. Mimi Panda 🐼 helps children to explore something new and interesting. We are sure that our unusual
coloring pages
will like adults as
children
too.
Airplanes colorings for adults 🛫
If you want to reduce stress, that we have every single day in our life, try to color our excellent airplanes colorings.  It's so peaceful and exciting process, and that inspires at the same time. Our brain needs such creativity exercises. Coloring is a very helpful activity not only for kids but for adults too. Today, people spend almost all the time online, we live with smartphones and laptops at work, at home, every day, and even every night. We live in a constantly and fast-changing world. All these influence our health, and we sometimes feel exhausted and irritated. So, when we focus on simple and pleasant things, for example, like coloring,  our brain relaxes and we become calmly and happier.
Imagine that you started your morning routine with a cup of coffee and with one of these colorings. It was a good start for a great day! Or, let's say, you have a very stressful working day, but during a coffee break, you doing something that you like, maybe finishing your favorite coloring, and, after that, you feel much better!
All people are so busy these days, but we must remember that very simple things make us very happy and give us energy and positive emotions. 
We provide unique colorings for adults, very realistic, and detailed. Your coloring can look like a picture of a professional famous painter. So, find and discover the artist inside you! Also, you can use our coloring pages, as prototypes for your paintings. Reduce stress and anxiety with coloring pages from Mimi Panda for free!
Make your own airplane coloring pages ✈️
But it isn't all, you can make your coloring page also for any photos or images on Mimi Panda website. Maybe do you have your favorite aircraft model or ship? You can make a photo and
converts it into a personal coloring page
or create a
custom coloring book
, and it's great and exciting! But coloring pages are not only entertainment that is also
relief from stress
, developing creativity, learning colors, and motor skills for kids and adults. So, we look forward to starting to create with you 😍!