---
Flowers Coloring Pages
Flowers Coloring Pages
---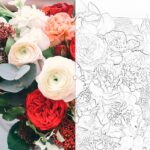 Here you find beautiful and gorgeous flowers coloring pages. We created them from photos of real flowers for you. They look like a not finished masterpiece🎨 and waits when you start coloring them😊!
Flowers coloring pages🌹 - an awesome pastime💐
Do you like flowers💐? Everyone loves them because the flowers are inspiring us. After all, they are so beautiful. A charming view from a window to a fascinating flower field🌹🌹🌹 on a sunny morning, makes us joyful, and motivates us to create, sang, love, and live! When we love someone, we want to present a beautiful bouquet to them, when we want to say "thank you", flowers🌷 will suit perfectly for that too. So people can't imagine a life without flowers! And we can't imagine our website without flowers coloring pages. With Mimi Panda coloring pages we can pleasantly spend our time. Especially when coloring pages are very realistic and detailed and have high - quality. So, you got into the right place if you like flowers and you are searching to perfect coloring pages for adults!
Flowers coloring pages for adults🌹🌷💮
Our flower colorings for adults are incredible! You can download them for free or try to create your 🌷 colorings from your photos! With Mimi Panda, you can convert your photos into amazing colorings and color them. So, start to create your collections of coloring masterpieces.
Flower colorings for kids🌼🌼🌼
Our flower colorings are perfect for kids of all ages too. Here you can find not only incredible coloring pages but also a piece of short information about each flower. So, it can help you teach and amuse kids at the same time! So, pick any of our awesome colorings for kids from our catalog or create yours, whatever you want, it's free!
More just coloring pages💐
Moreover, we collected some interesting facts about flowers🌼, that you must know. So, on the
Mimi Panda
website, you find not only beautiful 🌷coloring pages, but you can also learn more about flowers🌼 and teach about it your kids😍. It's very important to teach our kids about nature and
animals
 and to teach them to protect, and care about our beautiful
planet
🌏.
Start creating with Mimi Panda🐼
In this section, you find different flowers 🌹 such as
orchids
, sunflowers💮,
roses
, peonies, and many others. Also, you can
make your flowers coloring pages
from your photos or
 personal coloring book
😍. So, start creating with Mimi Panda🐼 and enjoying it😊!