---
Flowers Coloring Pages
Flowers Coloring Pages
---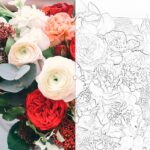 Here you find beautiful and gorgeous flowers coloring pages. We created them from photos of real flowers for you. They look like a not finished masterpiece🎨 and waits when you start coloring them😊!
More just coloring pages
Moreover, we collected some interesting facts about each flower, that you must know. So, on the
Mimi Panda
website, you find not only beautiful coloring pages, but you can also learn more about flowers and teach about it your kids😍. It's very important to teach our kids about flowers and
animals
, teach them to protect, and care about our beautiful
planet
🌏.
Start creating with Mimi Panda🐼
In this section, you find different flowers such as orchids, sunflowers, roses, peonies, and many others. Also, you can
make your flowers coloring pages
from your photos or
 personal coloring book
😍. So, start creating with Mimi Panda🐼 and enjoying it😊!