If you're a maker, chances are you've thought about selling printables on Etsy. Etsy is a powerhouse in the handmade market, and it's a great place to sell everything from jewelry to illustrations. One of the most popular items to sell on Etsy is printables.
Printables are digital files that can be printed out and used for a variety of purposes, such as coloring pages, planner inserts, and wall art. If you're thinking about selling your coloring books on Etsy, then this blog post is for you!
Keep reading to learn the 5 steps for creating and selling printables on Etsy for wildly successful results. In this article, we focus on creating printable coloring pages for commercial use. So let's get started!
Post Outline
Define your goals
Find your target market
Set up your Etsy shop
Create your printable coloring pages
Publish them on Etsy
Define your goals to start selling printables on Etsy
Before you start selling anything on Etsy, take a moment to think about your goals. It's important to know what you want to accomplish before you start creating and selling printables. For example, are you hoping to just make a bit of extra money with your printables? Or, are you looking to start a full-time Etsy business to support your family's income? Making these goals clear to yourself can help you make sure your printables business is profitable and successful. It's also important to make sure the goals are achievable, and that you're not setting yourself up for disappointment.
How much do Printables Sell For on Etsy?
Etsy is a great platform because it has a built-in audience of people who are already interested in buying and using printables. Selling printables on Etsy is a great way to make some extra income. But how much can you expect to make?
The amount you can make selling printables on Etsy depends on a few factors, such as the quality of your coloring pages and the price you charge. Generally, you can expect to make between $2 and $10 per printable. If you have a large number of printables for sale, you could make even more than that. Etsy has a built-in algorithm that shows your products more often if you have more than 5 printables and are actively working with the platform.
Here is an example of a printable coloring book on Etsy.
Find your target market
After you've set your goals, it's time to think about who you're selling to. This is an important step in crafting a successful printables business. You need to know who your target audience is so that you can create the printables they're looking for.
First and foremost, you'll need to decide what type of designs you want to offer: something for children or adults or perhaps something more niche such as mandalas or animal pictures.
What Printable Coloring Pages Should I Sell?
Start by looking at the printable products on Etsy you like to buy yourself and answer these questions:
Are they popular (check the number of sales)?

Are they seasonal?

Nature themed?

Very detailed?

What is the average number of pages in each?
etc…
This can give you some good ideas for printables you can create for your own Etsy store. You can also look for trends in the Etsy search section and Etsy's best-selling items to get an idea of what kind of printables are popular and in demand. That way, when you create printables of your own, you'll be sure that they'll sell. 
Think about the size of your printables. You can put together a collection of 8.5" x 11" printables, or if you want to stand out, you can make bigger prints, like 11" x 17".
List of trending niches on Etsy below:
Quote coloring pages
Kawaii coloring pages
Fairy coloring books
Coloring pages for kids
Adult mandala coloring pages
and lots more.
For instance, check Etsy Fairy coloring books and see the number of sales for trending books! That's just unbelievable!
Once you've got that figured out, start looking for inspiration from places like Pinterest and Pixabay for clipart ideas. With all this in mind, start preparing your Etsy store – you could soon find yourself with a thriving business!
Set up your Etsy shop
Before you can start selling your printables, you need to set up an Etsy shop. So let's get started then.
1. Create an Etsy account
Before you open your shop, take the time to create an Etsy account by registering using your email address or selecting the option to continue with Google, Facebook, or Apple. After submitting the form, check your inbox for a confirmation email from @etsy.com and follow the included instructions in order to confirm your account.
Doing this will allow you to both run your shop and purchase from other sellers on the platform. Additionally, it's important to add a bio to your profile so that the Etsy community can get to know you better.
2. Open an Etsy shop
Go to Etsy.com/sell and click "Get started".
Take a moment to answer some introductory questions regarding your business experience and selling-related topics. Click Next or Skip this Question.

Select the language, country, and currency of your shop, then select 

Save and continue

.

Choose your shop name, then select 

Save and continue

.
You will need to fill out some additional information, like what kind of products you're selling. You can also add additional information to your Etsy shop, like a profile photo, header image, and shop policies. This all helps potential customers get to know your shop and trust that their order will arrive safely.
3. Set up your payment and billing details
It's essential to link a bank account and add a debit or credit card to your Etsy shop in order to receive payments, as well as pay any bills associated with running your store. Establishing these connections is key to getting paid on Etsy.
Once your shop is set up, you can start adding your printables to your shop. When adding each listing, make sure to use high-quality photos, write clear descriptions for each product, and add relevant tags that relate to your printables. Market your products: Now that your Etsy shop is good to go, it's time to
Your journey should start from the How you'll get paid page. Fill out your personal information and follow all further instructions.
Take my Congratulations! You are ready to sell your Printable Coloring Pages on Etsy!
Create your printable coloring pages
On the internet, you can find tens of tools that can be used to create printable coloring pages and other types of printable materials. Most of them (Like Canva or Inkscape) require knowledge of graphic design and experience with those specific tools. This makes the process quite complex for people who have just started.
Today we will use the Mimi Panda Premium service that creates high-quality coloring pages in seconds without knowing graphic design or any additional skills. To begin with this short guide you need to register an account at https://profile.mimi-panda.com/register and subscribe to one of the plans. So when you are ready, we can start!
1. Find images on a Free image stock
Let's assume you plan to create your first coloring book for children and sell it. You already know that such coloring pages are quite popular on Etsy. So the first is to find images that you can convert into coloring pages.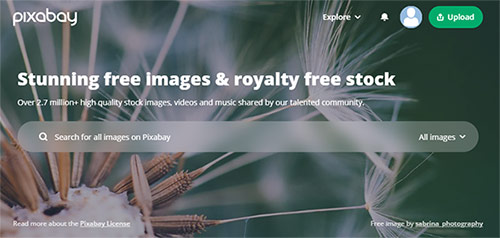 I would recommend using Pixabay or similar Free Images Stock because they give you the ability to search through millions of high-quality images. The goal is to find simple to-color images for kids. Type in the search field "cartoon" and press enter. As a result, you'll get a page full of images matching our needs. Let's choose  an elephant image that kids would definitely love to color:
Download this image in 1280×981 size (PNG format).
We have a quite comprehensive article about how to choose the right image for your coloring page here. So if you need, you can always go back and read best practices for choosing the right images.
2. Convert the image into a coloring page
The next step is to convert the image into a high-quality coloring page at your Mimi Panda Premium account. Our algorithm works just perfectly when you convert simple images like the one we found on Pixabay. It preserves all the needed details and makes the coloring page in seconds without additional actions. So let's do that step by step.
Login into your account and Upload the elephant image using the button as shown in the image above. After that, you'll be redirected to another page and in a few moments your coloring page will be presented to you.
Download the coloring page using the button as shown below.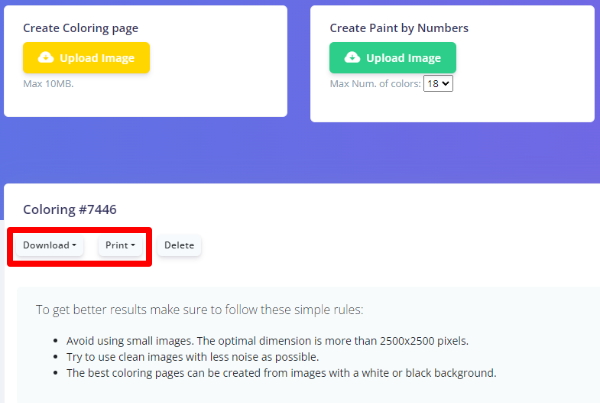 That's it. Your first coloring page is ready. The next step is to find and convert other images into coloring pages for your printable coloring book and compose them into one downloadable archive.
Publish your archive to start selling printables on Etsy
The last but not least step is to publish your coloring book to start selling printables on Etsy. Follow these steps to do that:
Click "Shop Manager" on Etsy.com.
After that go to "Listings".
Click "Add a listing".
After that, you'll be asked to add details of your new product:
Photos, and videos of your product.
Thumbnail image.
Product Details.
Inventory and pricing.
Archive with your coloring pages.
Set up shipping.
etc…
After filling out all of these, you'll able to publish your product on Etsy. Voila! That is so easy!