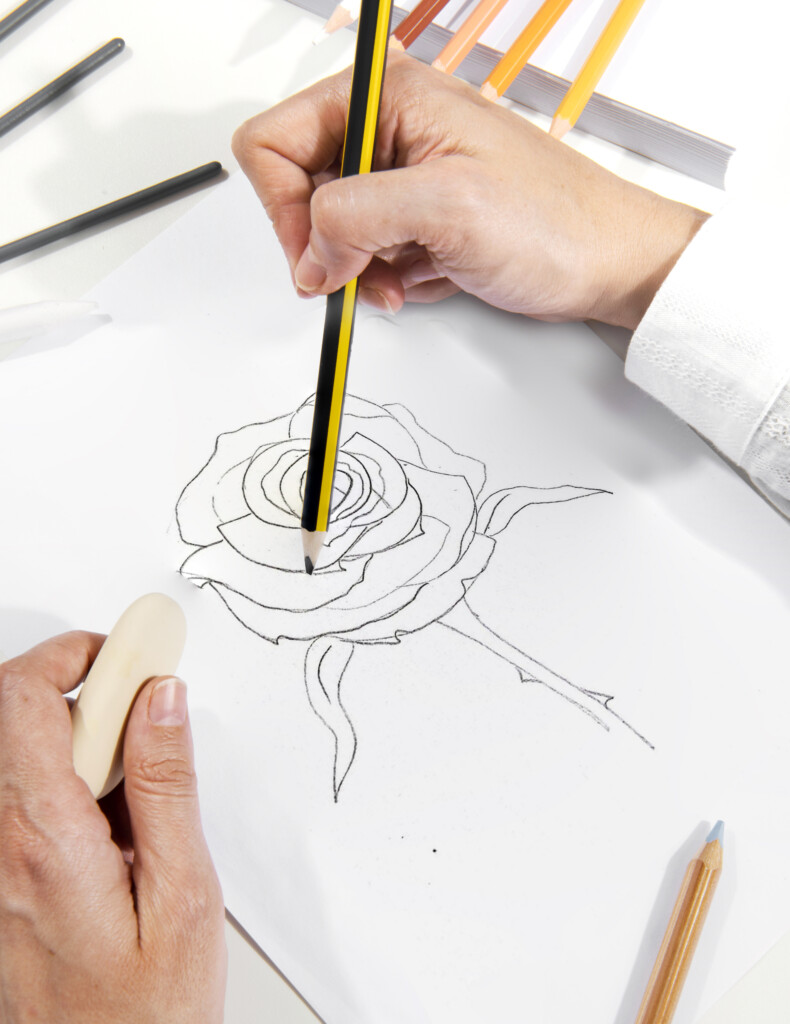 Unlock the art of easy rose drawing with Mimi Panda's "Rose Drawing: Step-by-Step Tutorial." Roses, known for their timeless beauty and symbolism, have never been easier to capture on paper. Whether you're looking for a simple rose drawing or a more realistic depiction, our tutorial provides two options tailored to your skill level.
Mimi Panda will offer two options for drawing a flower:
Easy Rose Drawing for Adults
For those seeking a more intricate and detailed painting, our first option caters to adult artists. With step-by-step instructions and clear guidance, you'll be able to create a stunning rose that reflects the natural elegance of this beloved flower. Whether you're a novice or an experienced artist, we make it simple to bring a beautiful rose to life on your canvas.
Mimi Panda is thrilled to present two captivating rose drawing tutorials, tailored for both adults and children. These guides will help you unlock your creative potential and bring the timeless beauty of a rose to life on paper.
Rose Drawing Guide for Adults:
1: Commence your artistic journey by sketching the heart of your rose, setting the foundation for its elegance.
2: Add delicate petals to the core, gently filling out the budding flower.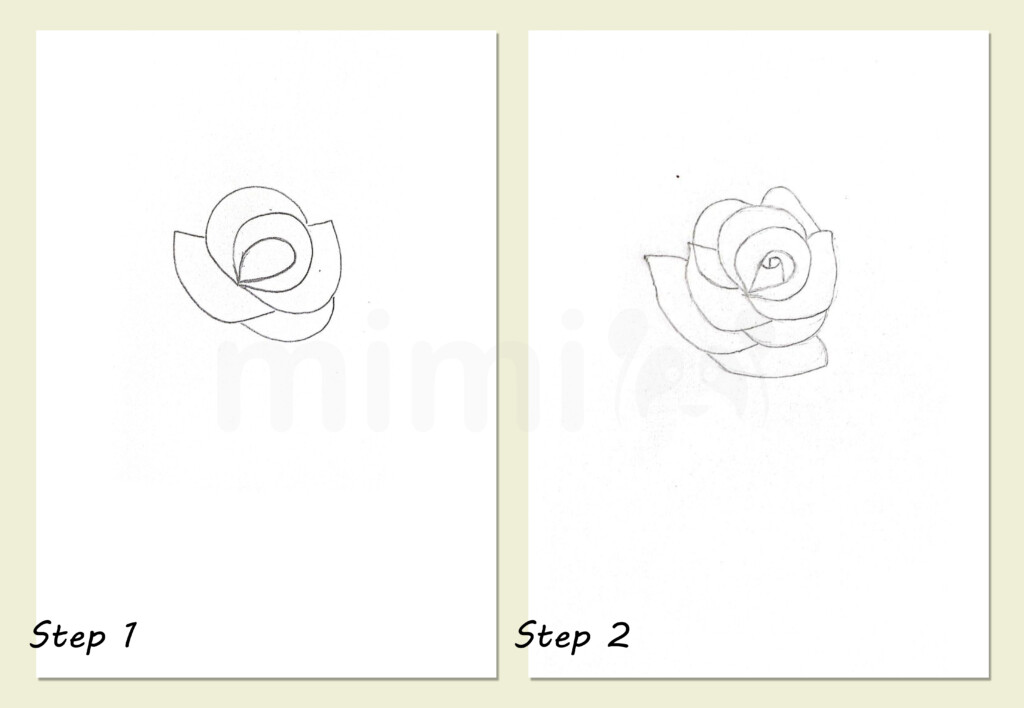 3: Meticulously render the entire rosebud. Feel free to incorporate as many petals as you desire to make your rose as grand as your imagination allows. Don't forget to include the stem and leaves in your composition.
4: Trace over all the petal lines, ensuring they harmonize with each other.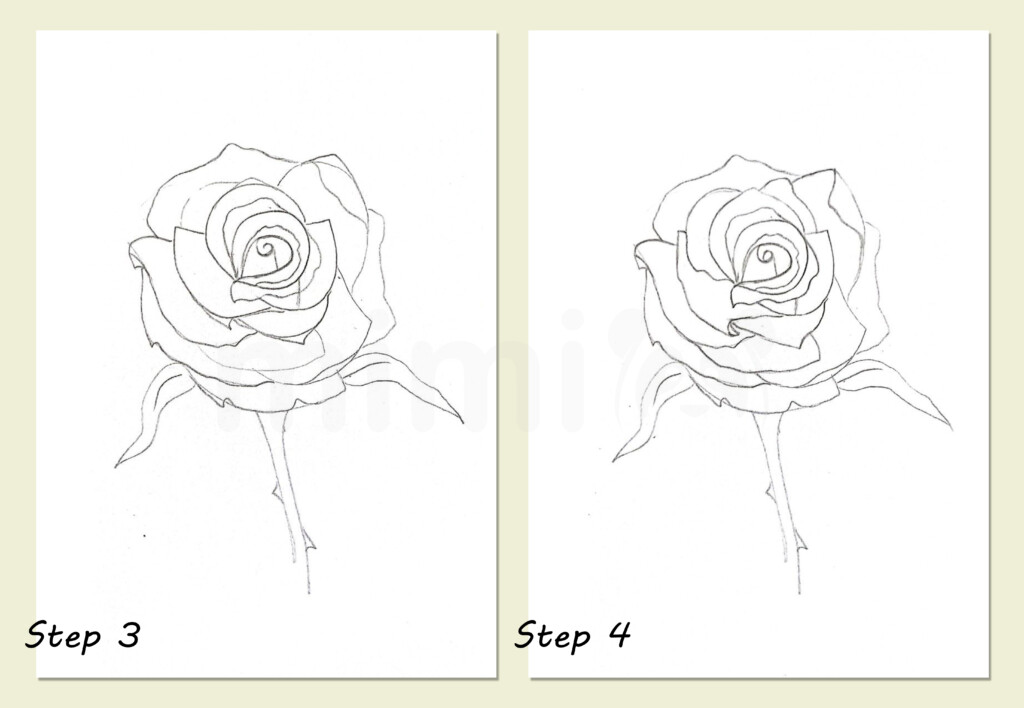 5: Remove any extraneous lines, leaving only the essential ones that define your rose.
6: Embark on the colorful stage of rose drawing realistic. Apply paint to the petals to give them depth and dimension. Remember, lighter shades should be used on elements in the foreground. Likewise, use green paint to bring your stem to life.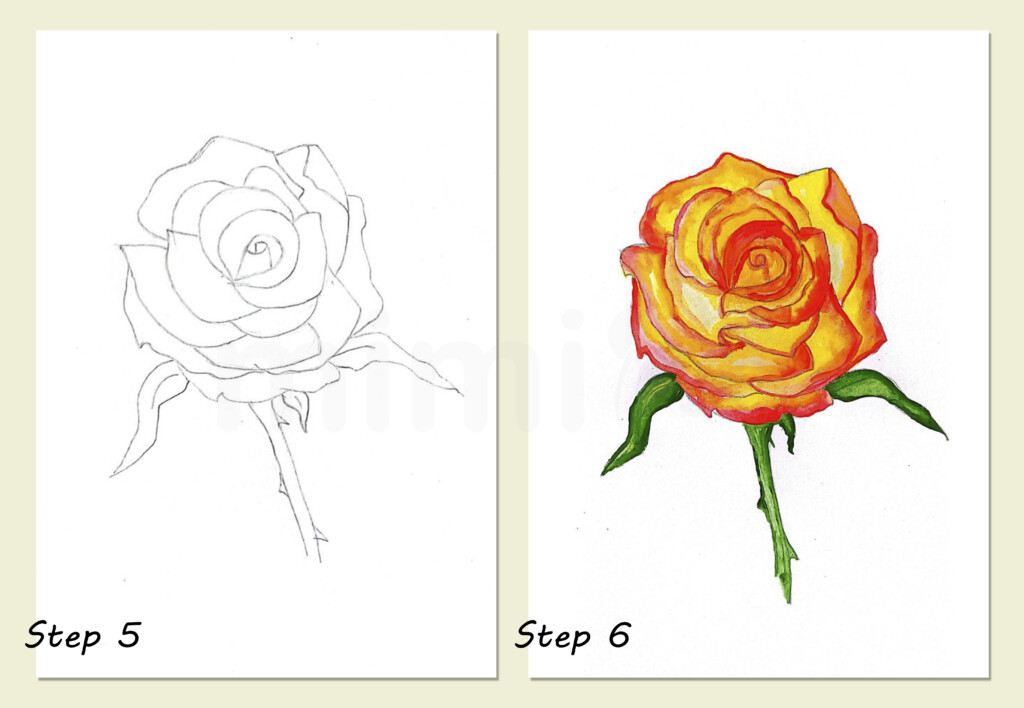 7: Revel in the satisfaction of your artistic endeavor as you admire the final result.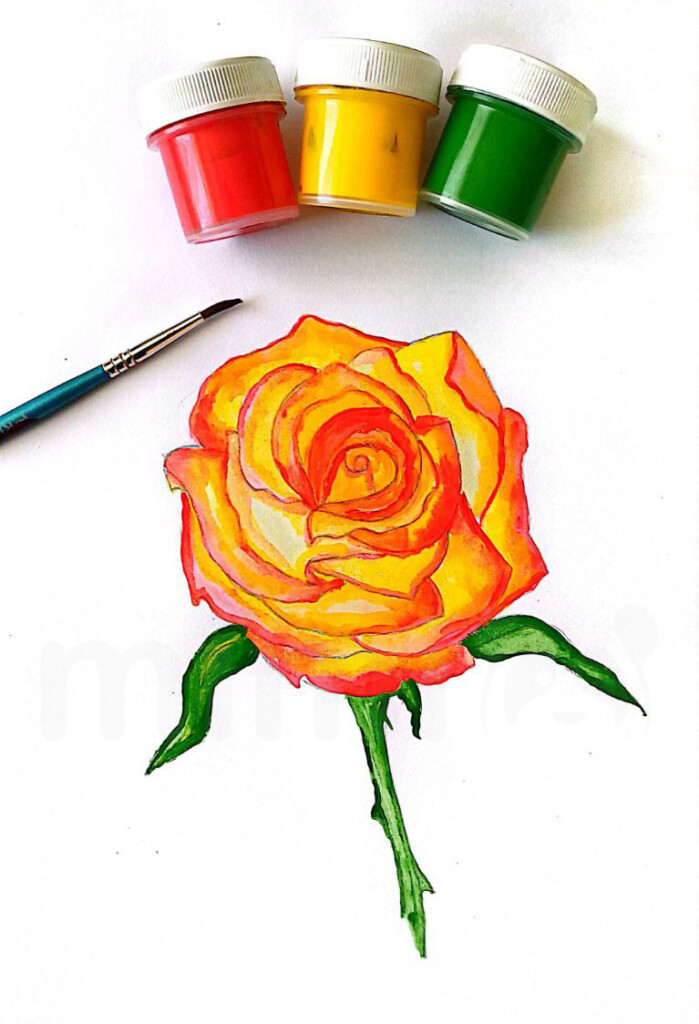 Simple Rose Drawing for Younger Artists
How to draw a rose easy? Young budding artists, fear not! Mimi Panda's second option is designed specifically for those at a younger age. We offer a cute and rose easy drawing guide. That simplifies the process, making it accessible and enjoyable for kids and beginners alike. This option allows children to explore their artistic talents while learning the fundamental techniques.
A Guide to Drawing a Simple Rose for Children:
1: Initiate your rose drawing by outlining the bud and forming petals in a spiral pattern.
2: Add more petals and complete the silhouette of the budding rose.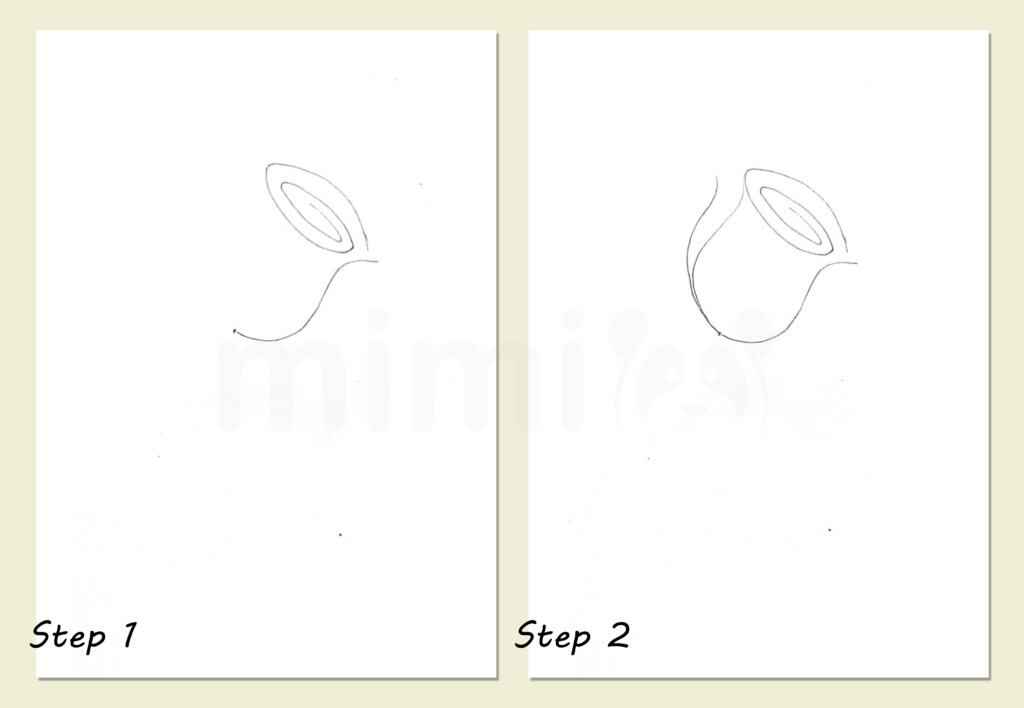 3: Extend the creative process by including lower leaves to the bud.
4: Depict a sturdy stem for your rose to flourish.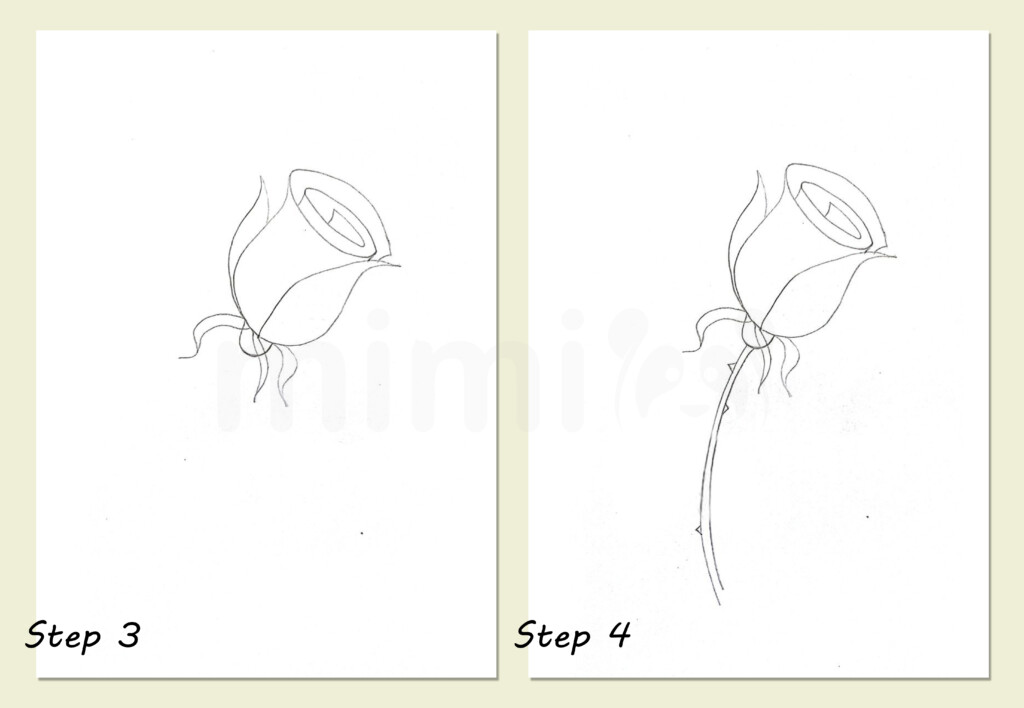 5: Enhance the stem by adding three charming leaves.
6: Transition to the coloring phase. Apply red paint to the petals to create dimension, remembering to use lighter shades for elements in the foreground. In the same fashion, bring the stem to life with vibrant green paint.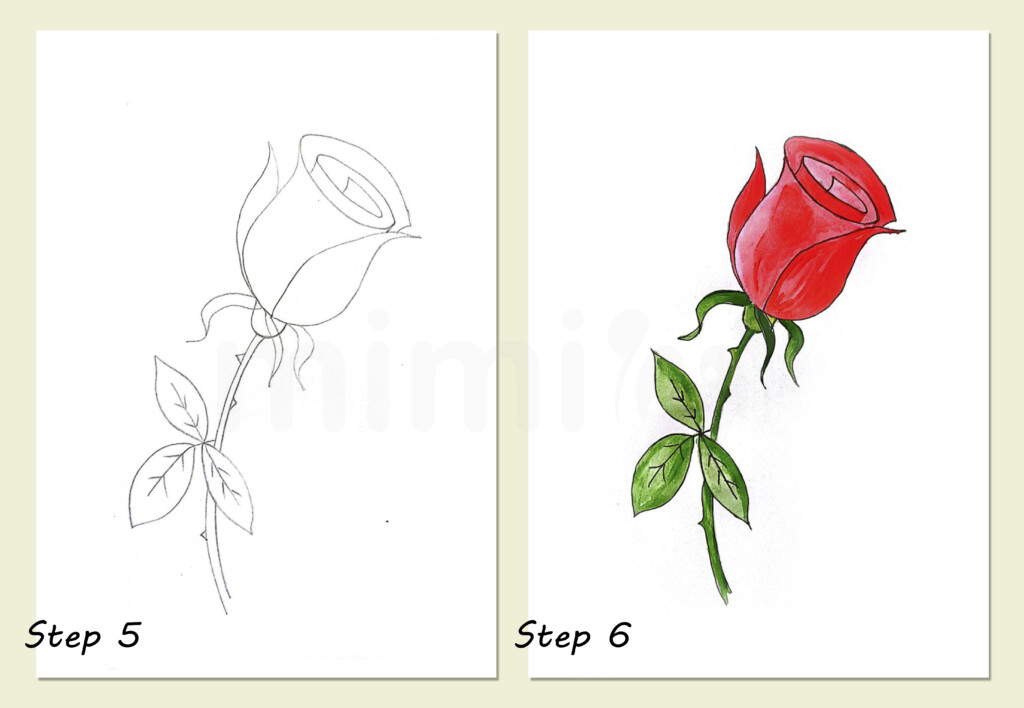 7: Savor the fruits of your creative labor as you admire your artwork's final outcome.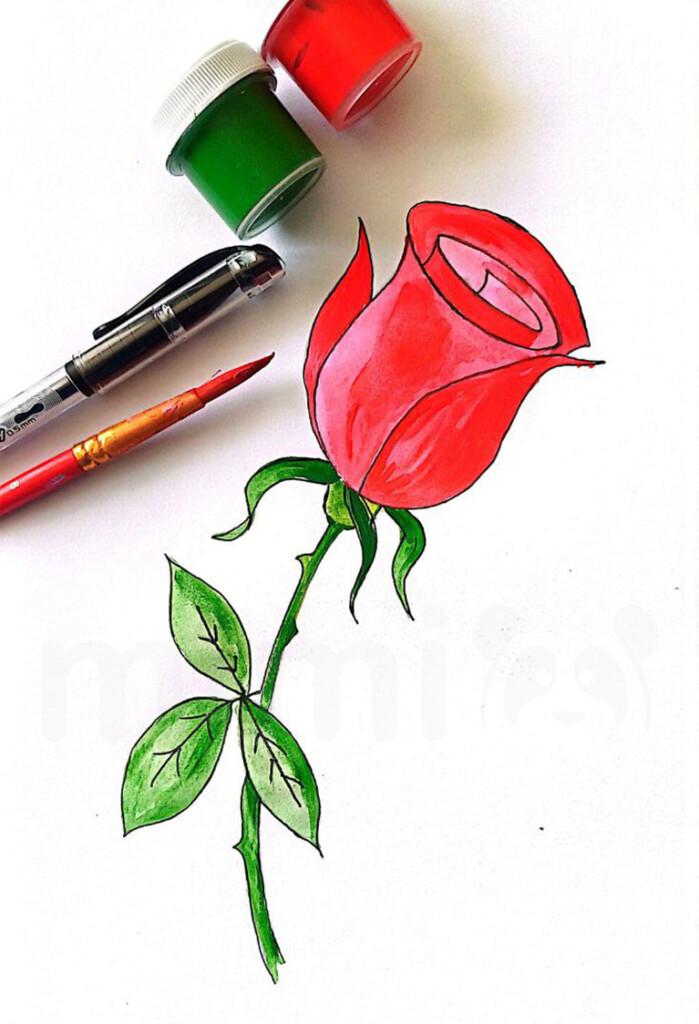 Master the Art of Rose Drawing
Thanks to our step-by-step guides, mastering the art of drawing has never been this easy. Whether you're interested in creating a cute rose drawing or a realistic rose outline drawing, we have you covered. Our tutorials provide a clear path to success, ensuring that your rose drawings will be a source of pride and accomplishment.
How to Draw a Rose: Easy and Accessible
At Mimi Panda, we believe that art should be accessible to everyone, regardless of age or skill level. Our Step-by-Step Tutorial not only teaches you how rose drawing easy but does so with simplicity and clarity. We understand that a rose's beauty lies in its timeless allure, and we're here to help you capture that charm on paper, effortlessly.
Embrace the art of rose drawing today with Mimi Panda's easy tutorials. Whether you're aiming for a cute rose drawing easy enough for a child or a realistic that showcases your artistic talent, we invite you to explore the enchanting world of roses through our step-by-step guides.
With Mimi Panda's user-friendly tutorials, you can relish the art of drawing and craft your very own rose masterpieces. Whether you opt for the intricate adult version or the simplified child-friendly guide, drawing becomes a rewarding creative achievement. So, seize your pencils, let your imagination run free, and draw alongside us! Your exquisite roses await, ready to bloom on paper.
In Conclusion
At Mimi Panda, we're committed to nurturing your artistic talents and making the journey of creative expression as smooth as possible. With an array of drawing instructions available on our site, you'll find a wealth of advice, techniques, and inspiration to help you embark on countless artistic adventures. Our dedicated team works tirelessly every day to enhance your experience, striving to make our platform more convenient and better for you. So, let's dive into the world of art together and unleash your creative potential!