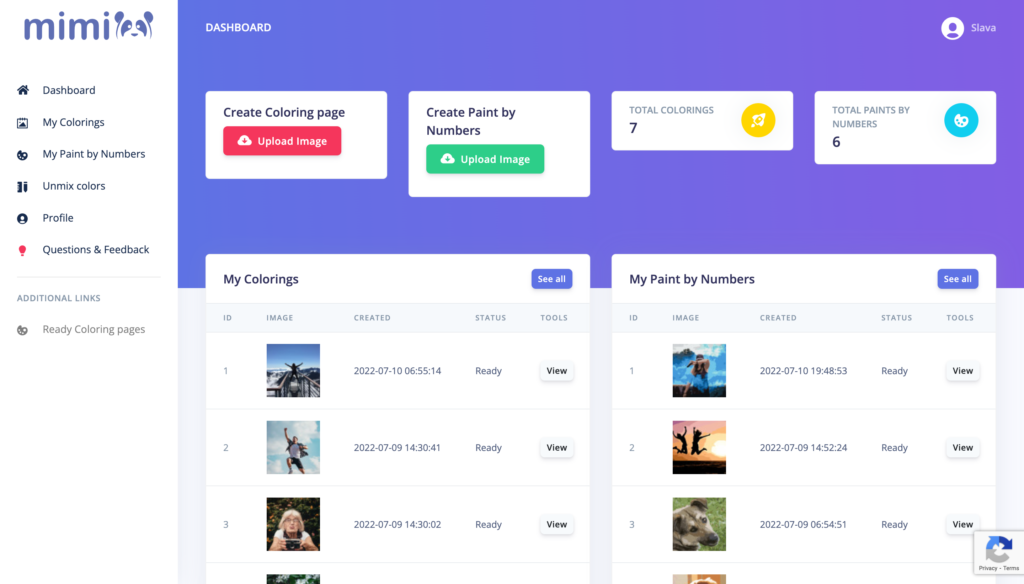 Mimi Panda Profile – Premium Quality Service
If you're looking for a premium quality coloring page and paint by number service, look no further than Mimi Panda Profile. With Mimi Panda Profile, you can convert images into high quality coloring pages and paint by numbers, and store all of your converted images in one place – your account. This service is subscription-based, and there are several subscription plans available to meet your needs.
What sets the service apart from other services is the quality of the images it produces.
Link: https://profile.mimi-panda.com
Audience
The service has been developed and is focused primarily for:
Kids that love coloring.
Parents that want to find creative hobbies for their kids.
Adults that are looking for a way how to create a family coloring book or complex coloring pages/paint by numbers to relax coloring them.
Creative artists that create their own coloring books or paint by number to sell them on Etsy or Amazon.
And many others.
More details about the subscription plans can be found here.
Our Advantages
Mimi Panda Profile has several key advantages that make it really good for kids and adults:
The service is super simple to use. In a few clicks, you can convert your photo or image into a coloring page without any help.
Printing your converted images is quite easy (using your printer).
The service provides the ability to create easy coloring pages/paint by numbers and quite complex pictures (everything depends on source images).
It's easy to unmix a color into primary and secondary using our unmixing tool. Plus you can find suppliers of similar acrylic paints in seconds.
The converted images can be used for commercial use – sell them all over the internet (commercial plan).
It has a free trial that allows converting up to 30 images within 7 days to verify the quality of the service. And if you are satisfied and want to download/print converted images, subscribe to one of the plans.
If you're looking for a premium quality coloring page and paint by number service, Mimi Panda Profile is a perfect choice.
If you would like to learn a bit more about the service and its features, follow this link.